Motor City Underground: Leni Sinclair Photographs 1963-1978
More than a decade in the making, Motor City Underground: The Photography of Leni Sinclair 1963-1978 is the first major monograph to span the career of this legendary Detroit area photographer.
Leni Sinclair's life history is woven into the happenings, politics, and music of Detroit culture from the 1960s, 70s, and beyond. The book opens with documentation of the March on Washington in 1963, and moves to the avant-garde Red Door Gallery, the formation of the Detroit Artist's Workshop, and the pioneers of free jazz and the growth of home-grown blues and rock 'n roll.
Motor City Underground contains a major section documenting the MC5, with many never-before-seen and unpublished photographs. Included are period shots of Iggy Pop, Jimi Hendrix, the SRC, Mitch Ryder, Bob Seger, Ted Lucas, Dr. John, Commander Cody and the Lost Planet Airmen, The Up, and many other Detroit luminaries of art, music and politics.
Great Jazz musicians at the precipice of the free jazz movement are featured in portraits of Thelonious Monk, John Coltrane, Alice Coltrane, Archie Shepp, Cecil Taylor, Sun Ra, Elvin Jones, and Pharoah Sanders. A new generation of Detroit free jazz artists are featured including Faruq Z. Bey, Charles Moore, Sam Sanders, Marcus Belgrave and Afrofuturist Aaron Ibn Pori Pitts.
Leni Sinclair was a radical and cultural activist present at the foundation of the Artist Workshop, Trans-Love Energies, the White Panther Party, the Red Star Sisters, the Free John Sinclair movement, and the Rainbow Peoples Party. She also documented the Ann Arbor Blues and Jazz Festivals, the Sun Ra Arkestra, and helped manage the release of the Detroit Red Squad files under the direction of Mayor Coleman Young. Her relentless creative energy places Leni in the vanguard of all Detroit artists.
Motor City Underground has a text by Cary Loren, populated by quotes, captions, and dozens of first hand interviews with Leni and John Sinclair, Pun Plamondon, Genie Parker, James Semark, Charles Moore, Robin Eichley, Martine Algire, Howard Weingarden, Michael Davis, Wayne Kramer, Ed Sanders, Stephen Ligosky, Rebecca Derminer, Gary Grimshaw, Russ Gibb, Scott Richardson, Frank and Peggy Bach, Peter Werbe, Judith Janis and George Tysh. A biographical text in the book follows Leni from her youth in communist East Germany in the 1940s to the fall of Richard Nixon and the fight for legalized marijuana in the 70s.
An in-depth interview of Leni Sinclair by Kristine McKenna caps off the book. Motor City Underground is beautifully designed and photo edited by Lorraine Wild and Green Dragon Press in Los Angeles. The book project was instigated by artist Mike Kelley in 2010, who was inspired by the Detroit rock aesthetics and radical politics in his youth (as were Loren and Wild).
Motor City Underground is an oversized hardbound book, 10″x11″, 408 pages, with hundreds of photos, flyers, posters and other ephemera. The book is published by MOCAD and Foggy Notion in a small edition of 500 copies.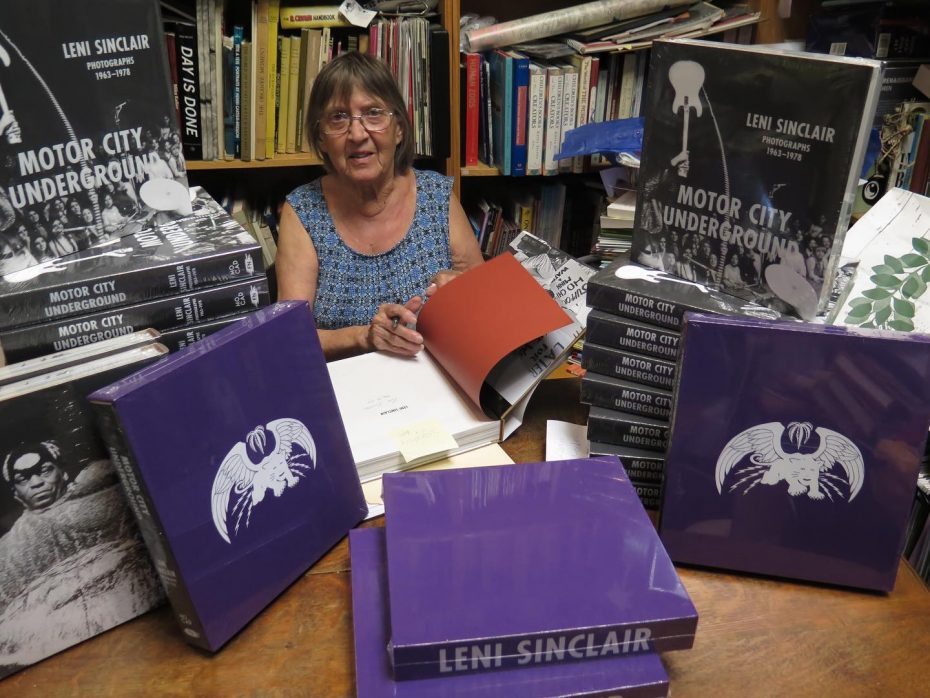 Leni Sinclair signing copies of Motor City Underground at Book Beat.
First edition signed hardcover copies are available while supplies last! Shrink-wrapped copies will be shipped when signed books are unavailable.
A signed, numbered, limited edition of 50 copies is also available. The book is housed in a purple cloth handmade slipcase with a Gary Grimshaw estate sanctioned silkscreen of a winged white panther on the cloth cover. The book is signed and numbered and includes a silver gelatin photograph, hand printed on archival fiber based paper, and signed in pencil on the reverse by Leni Sinclair. This edition is priced now at $450.00, for the first 25 copies. If interested please let us know at: BookBeatOrders@gmail.com or call (248) 968-1190 and we'll reserve a copy. Signed trade editions are available now for a limited time from the Book Beat gallery at MOTOR CITY UNDERGROUND.